If you use Teamcenter® as your Product Lifecycle Management (PLM) platform, you have likely wondered about the difference between Active Workspace (AWC) and the Rich Application Client (RAC).
AWC is a web-browser application that uses HTML5 (and optionally WebGL). It can be configured to include most of the features that are available in the RAC, as well as some features that are not in the RAC. RAC is a full-featured user interface based on the Eclipse framework.
Definitions aside, here are four major differences in their functionalities.
1. Faster Filtering
With the Rich Application Client, you have to set your filters before you see your items. This isn't that helpful for the occasions when you want to start broad and then narrow your search.
With Active Workspace, you get to filter items after viewing them as a group. From the home screen, you see a Classification tile that takes you to Product Classification. On the left of your screen you see the classification structure just like you see in the RAC. You can go through these parent nodes and drill down into the hierarchy.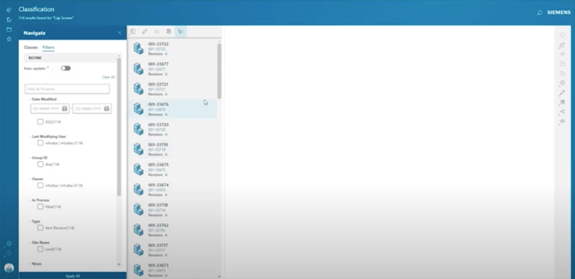 If you choose cap screws, for example, which is the leaf screw node in this Teamcenter instance, you get a list of items under this specific class. If you want to narrow your search, you check one or more of the filters on the left-hand side. For example, you could choose a drive type of double hex. No matter the filter you choose, there's a numeral next to its name. This indicates the number of items that will be returned when you filter by this criteria.
2. Attribute Editing on the Fly
With Active Workspace, you can easily toggle between attribute values and classifications.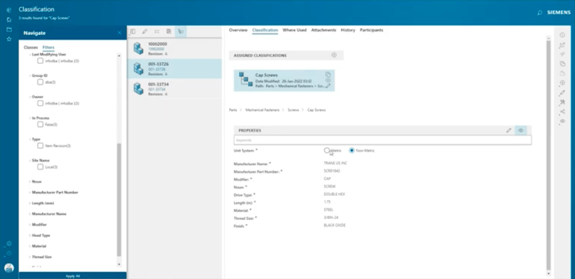 For example, the length of this item is listed at 1.75 inches. But if you wanted to see the metric measurement, you'd simply toggle the setting with a single click to reveal the millimeter value. You can then edit these attribute values right from this screen.
For example, if you want to change an attribute like "finish" for this product, you could click the dropdown list next to that value and edit it right there on the screen.
3. Precise Comparisons
Another difference between Active Workspace and the Rich Application Client is more precise comparisons. When you click the comparison tool, you select two or more items and view them side by side.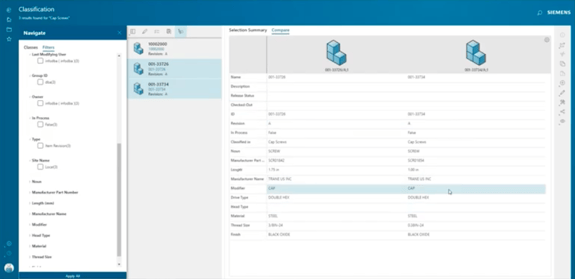 This replicates a view you are used to seeing in the RAC, but is a lot more accurate.
And, when you open a class in the RAC, you view all of the parts in that class together, or you view as many as get returned from your filter values.
4. Global Search
RAC offers global searching for an item ID which can then be opened in whatever module you're currently in. See below example using global search with Classification open in the RAC.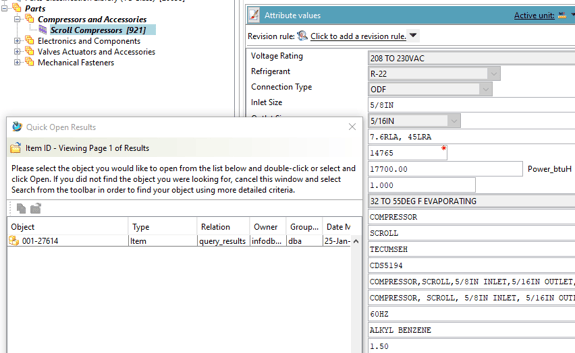 Keep in mind, the filtering is scoped to what module is open. If you're in the Attachments module and searched for that item ID, it would open up the attachments on it.
What's unique about AWC is that global search brings you to the actual item and from there you can view everything about it—classification, drawings/attachments, etc. without being scoped to what module you're in inside of AWC.
Want to Make Teamcenter Work Better For You?

One thing to remember about Teamcenter (and every other PLM, for that matter) is that your success with the platform depends on your data.

The quality and integrity of your product data is more important than how you browse, search for, view and manipulate this data. It starts with a successful data migration, but there are far-reaching steps you can take even after that to ensure strong data governance.
Want to discuss with an expert? Contact us today.