Much like puzzle pieces, no two customers of ours are the same—each has its own unique needs.
At Convergence Data, we have customers at all stages of the data-cleansing process and data transformation lifecycle. For that reason, we've developed customized PLM and PIM integration options with our proprietary software, Design For Retrieval (DFR), which supports all new parts and product data creation.
Below, we outline the purpose and benefits of DFR and how you can integrate it with your existing PLM or PIM system.
What Is Design For Retrieval (DFR)?
Design For Retrieval (DFR) is a custom-built software by Convergence Data that provides a one-stop solution for cleansing, enriching and validating your data to leverage built-in analytics and reporting tools.
Our team of technical data experts developed DFR to inform and implement digital analytics and data governance decisions. The DFR platform can be used to:
Enhance product information management (PIM), marketing and ecommerce outcomes.
Control new part introduction (NPI) processes and integrate third-party data sources.
Tackle acquisitions and large-scale data remediation.
Manage parts data across multiple PLM systems.
Access analytics for cost reduction.
Manage complex workflows.
DFR helps your organization to achieve strategic business outcomes to:
Increase part re-use.
Reduce inventory.
Leverage purchasing power across fewer suppliers.
Accelerate the speed to market your organization's most strategic parts and products.
Benefits of Integrating DFR with Your Systems
Companies often lack quality data from the beginning, which leads to data models and technology platforms being set up improperly—this makes it difficult to maintain and govern data within a PIM or PLM system, often leading to a heavy emphasis on manual rework.
DFR is robust enough to handle the most complex parts and product categorization of today and nimble enough to handle your future system structure of tomorrow. It provides organizations with data governance capabilities that encourage clean, quality data and prevents drift back to previous behaviors.
The key features of DFR integration will change the way you manage your parts data:
Classification, attribute and file management. DFR has robust data management features that allow you to create, edit, and manage all your files to maximize the benefit of your data.
Cluster analytics. A built-in analytics tool helps you reduce or leverage your inventory and purchasing power, highlighting areas of potential spend reduction to optimize your operations.
Validation and normalization. DFR's robust set of validations help to govern, cleanse, visualize, QA and normalize your data.
SmartFind search. Dynamically look up any part to use immediately for an engineering or purchasing application, and wireframe the search and navigation experience of an ecommerce catalog.
API integration. Integrate with your existing systems to ensure data continuity when creating new items (good data governance practices).
At Convergence Data, we invite all our customers to join DFR University—an exclusive video library and Solution Center of Excellence (CoE) to guide you along the entire enablement process and drive long-term adoption across your end users.
PIM Integration with DFR
Today's PIM systems allow you to organize taxonomy and maintain the data governance of your product data while also providing a clear framework for search engines to locate your products online. So why integrate DFR with your existing PIM?
DFR suits product managers and can serve as a front end for any PIM system.

You are given the ability to wireframe the PLP, PDP and site navigation experience.

You will finally be able to keep digital assets associated with product data.

No more pre-PIM spreadsheets!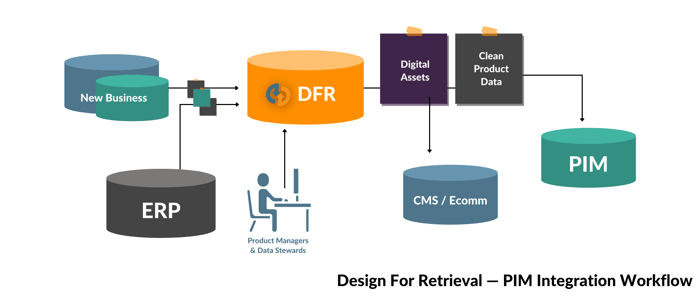 Once your PIM is integrated with DFR (example workflow pictured above), your organization will begin experiencing the following outcomes over time:
Determine navigation attribute readiness through fill rate analysis.
Increase conversion rate and increase revenue through data normalization.
Enforce data quality rules and style guidelines.
Drive more rigorous data governance across the organization.
Reduce operational friction.
Drive deeper collaboration with the visibility of insights that customized workflows, reporting and dashboards bring.
Keep in mind, each integration workflow will look slightly different.
PLM Integration with DFR
Today's PLM systems have enhanced their searching technologies to make it easier for engineers to find preferred parts for their designs. Why integrate DFR with your existing PLM?
You will be able to leverage third-party data and classification during new part and product creation through the use of Silicon Expert as an example of a third-party content provider.
You'll be given the ability to quickly create custom import and export interfaces, enhancing the process of gathering data and disseminating it to target downstream systems.

It's the right tool for the right job! DFR outshines several of the leading PLMs with its built-in PLM data capabilities.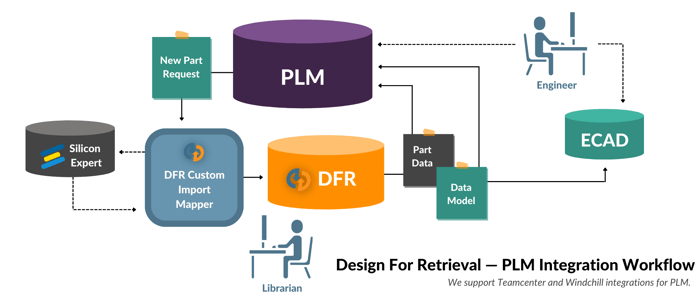 After your organization completes the PLM integration (example workflow pictured above), your team will have access to additional key outcomes:
Engineers will free up their time to better focus on tasks within PLM and ECAD, while librarians focus exclusively on enrichment tasks directly in DFR.
Automated MPN checks help eliminate duplicate part creation, saving your team valuable time and rework.
Third-party data provider integrations and automation reduce manual classification and enrichment efforts.
Send your classification structure to your CAD database to enable search and reuse.
Request a Design For Retrieval Demo
Want to make big, sprawling datasets a thing of the past? DFR can help! Request a demo of our custom-built software to learn how our team of experts can assist you in launching your data project to achieve your business goals.