PLM World: Orlando, Florida May 16 - 19th 2016
We are excited to be presenting a case study at PLM World about effectively migrating data to Teamcenter classification. I hope to see you there! The Convergence Data Services (CDS) Team will be available in the solutions center for any follow up questions near booth 321 throughout the conference. If you are unable to attend PLM World this year and would like to see the presentation, please contact CDS and we can arrange a meeting to review this case study with you.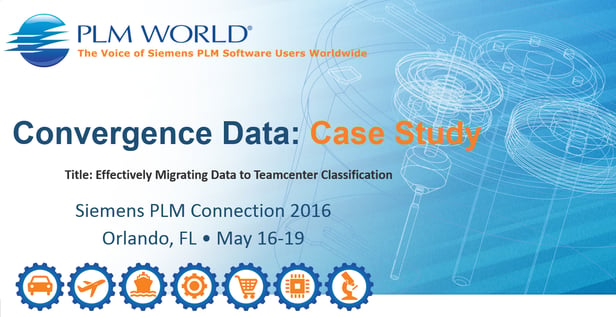 PLM World: Orlando Florida May 16 - 19th 2016
Session Number: 16270
Track: User Experience- Teamcenter Start Applications
Sub-Categorization: Other
Session Type: Presentation - Lecture
Primary Presenter: Richard Turner [President - Convergence Data Services]
Time: May 17, 2016 (01:15 PM - 02:15 PM)
Presentation Abstract: When migrating data from multiple legacy platforms, data normalization to a single standard is a critical path item. This presentation will review the importance of having a single data model that meets the enterprise's needs, tools to facilitate the data migration process and partners to help with the data cleansing process. We will describe how a single initiative was setup to consolidate, migrate and cleanse critical purchase part data – to make it much easier for engineers to use their Siemens PLM system being deployed at the time.