We are excited to be participating in PLM World again this year. We will be presenting jointly with our customer National Oilwell at the conference – Transforming Part Data for Optimal Teamcenter Effectiveness at National Oilwell. Wednesday May 10, 2017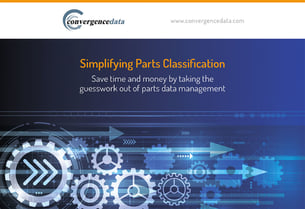 (10:15 AM - 11:00 AM) in Room 2016. If you can't make the presentation, visit us at booth 506 during exhibit hall hours Tuesday-Thursday.

Summary:
Transforming part data through enrichment and classification is essential to improve overall Teamcenter search and classification experience. We will walk through the steps of transforming part data from basic part number and legacy descriptions to an attribute rich classified part. Best practices from National Oilwell's classification process to continually cleanse and classify part data prior to adding it to Teamcenter to ensure accuracy and completeness.
Learning Objectives:
Enforcing classification governance
Transforming part data for more efficient Teamcenter usage
Creating data content from commercial descriptions to technical details
Staging data cleaning prior to Teamcenter
For a free copy of last year's PLM Presentation: Effectively Migrating Data to Teamcenter Classification, please email Info@Convergencedata.com.
About Convergence Data
Companies with chaotic or incomplete data trust Convergence Data to scrub that information into an organized, efficient structure. The company specializes in:
Minimizing part duplication
Cultivating part standardization and re-use
Reducing part count
Streamlining inventories
Improving leverage with vendors
PLM/ERP migrations
Convergence Data enables customers to manage data in a variety of industries,
including Aerospace and Defense, Appliances, Automotive, Electronics, Industrial Manufacturing, and Oilfield Services.
For companies deploying PLM or ERP solutions, the cleansing, classification, and data enrichment services from Convergence Data can be a significant benefit.
To learn more about Convergence Data and receive a Data Value Analysis (DVA) go to: www.convergencedata.com.