What Do You Mean By Duplicates?
⚙️ Duplicate Parts are quite common in today's business environment. A duplicate part occurs when the same two parts exist within an inventory, but have different part numbers. (To be clear, we are not talking about duplicate part numbers -- that is a separate business problem.)
Why Does a Business Have Duplicate Parts?
🤔 What is the source of this problem? Many times, it is related to not being able to find existing parts. If your team is plagued by data quality issues, this can often lead to the creation of new part that is a duplicate. Other times, this occurs when you acquire a business that has a lot of overlapping products and you inherit duplicate parts. The impact of duplicate parts is substantial. Each part requires many services over time to maintain it:
Design time
Quality control efforts
Procurement
Supplier management
Inventory management; and
End of life / Obsolescence
Having too many duplicate parts in a landscape can compound quickly. This becomes costly from the perspective of resources and effort required to maintain a part over its lifecycle.
Governance Process
🛣️ To get duplicates under control, you need a data governance process in place that mitigates the generation of duplicate parts. A common best practice is to have a master data management (MDM) team responsible for the release of new parts or the migration of parts from an acquisition into the corporate PLM and ERP systems. The MDM team should target the common types of parts that can be duplicate. Examples include:
Purchased parts
Raw materials
Electronics
Mechanical fasteners, etc.
👉 You will want the MDM team to manage the high-spend purchased parts categories. This is typically the area of the parts inventory that drives the greatest downstream value to the business. To address this, you will need access to critical classification data.
Data Management
🍃 A classification system can drive significant efficiencies in a business. Managed properly and with robust attribution, data can help to expose where duplicate parts reside within an inventory. With a data management capability in place, your team will be able to identify the duplicate parts and remediate them.
In addition, you can use the parts classification system to map out the duplicates and relate them to the primary part you will want to use going forward. It's not necessary to update every BOM with the primary part number as long as the primary part number is used by procurement for ordering and inventory. With consistent data management and governance, new products will only use the primary part number.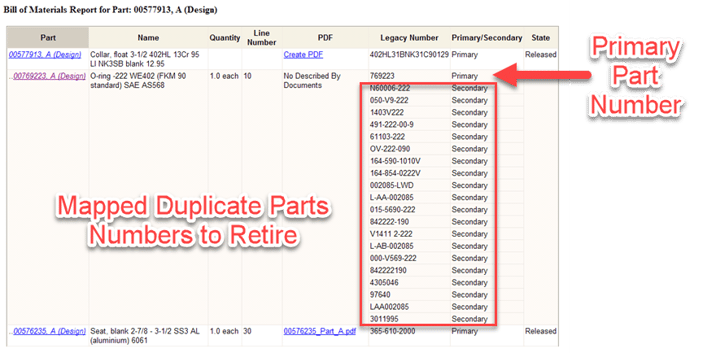 Example: An O-ring with one primary part number with multiple legacy part numbers from past acquisitions.
Acquisitions
🏢 Many industries (Oil & Gas is a great example) have a steady pipeline of business acquisitions. Each new acquisition brings in some level of legacy parts data. Often, the newly obtained legacy parts data are duplicate to the existing inventory. The best way to address this situation is to:
Classify the common parts from the acquisition and;
Map out the duplicates to the primary part number as show above ☝️
Looking for help with your duplicate parts? Let's get in touch! 📝