Taking the right approach to implementing a good classification structure will yield many benefits to your organization. However, if you don't do the right up-front planning, you may end up with significant rework or your program may just stall or die. There are some important steps to take early in the planning phases to help insure your program is a success providing critical benefits to your company. CDS will leverage its 15+ years of experience executing challenging classification programs across a variety of industries and companies to help you successfully plan and execute a new classification structure inside your organization.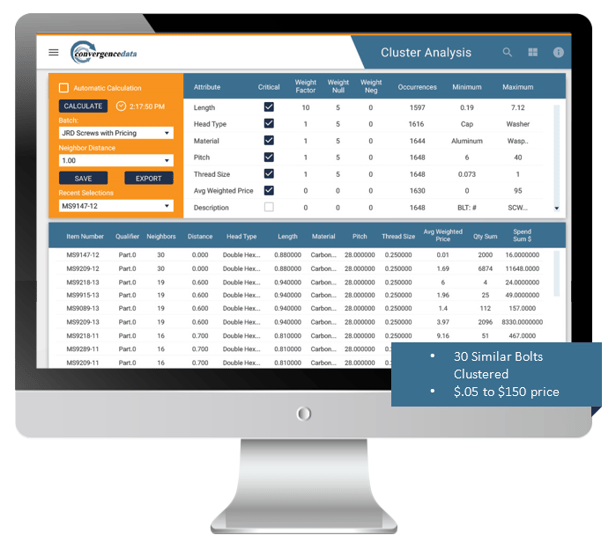 Cross Functional Requirements
Understanding the needs throughout your organization is important so that you structure the tree optimally to help identify clusters of data for analysis. For example, combining technical data with commercial data for a commodity category can help you spotlight cost saving opportunities. These clusters of information will group "like" parts and compare the pricing of that data, we do this through our CDS DFR Clusters analytical tool. Without the proper category structure, it would not be possible to achieve potential cost savings.
Key points:
Each functional group has their own requirements – your classification initiative will need to capture and bring them together.
If you can, avoid capturing requirements later in the project – this can mitigate significant rework.
Prioritize data requirements for each part type – make sure they include attributes supporting the key functional organizations – e.g. technical, commercial, operations, sales, etc.
Normalization of data will ensure like data is able to be associated together for cluster analysis.

To maximize the value of your parts classification project for your company, collect requirements from multiple functional organizations. Each functional group will have different use cases for the data that will need to be documented. For example:
Engineering REUSE - Engineering may want to find parts more easily and will specify certain technical attributes for searching.
IT SYSTEMS - IT may want to put the classification data in the systems they support (PLM, ERP, Analysis Cubes, etc.); each system will have its own on specific requirements to capture.
Supply Chain SUPPLIERS - Supply Chain may want to have purchase volumes and supplier data to help address supplier and materials management issues.
Procurement ANALYTICS - Procurement may want to use certain commodity and category codes to support spend analytics initiatives.
SALES CATALOGS – parts catalogs require a significant amount of data to help enable online sales. Typically, the more data, the more comfortable a customer will be to purchase a part or product.
To view our classification community meeting on this topic, go to: https://attendee.gotowebinar.com/recording/4303607647715771906
Reports and Analytics
To ensure optimal reporting and analysis at the end of the project, make sure to have an upfront understanding of your company's analysis requirements while you are creating the classification structure.
Key points:
As you gather requirements from each functional organization, have them describe the ideal reports and analytics they would like to have to support their business needs.
Draft reports in simple tools like Excel to validate requirements beforehand.
Once you know each business' requirements trace back to the key attributes required to deliver the reports each group needs.
There are many different analytical tools being used by businesses today, but most require high quality data to be effective. We recommend these tools be used to model the analytics and reports each group desires prior to starting your parts classification initiative. You may need to assist each group to determine their requirements, since they may have been working with a limited data set available today …limiting their options and thinking.
Search Use Cases
Identifying keywords and attributes for search is an often-overlooked necessity by the business, these keywords can be extracted from the classification model and be used to allow your users to quickly and easily find items.
Key points:
Find out what search limitations each group and business has today, determine their pain points and associated cost impact to the business. Understand how search works today and ask how it should work in the future.
Prioritize the key attributes for each category that can quickly guide a user to what they are looking for in just a few steps.
Avoid building out a data model that is too big; may lack the cost benefits to achieve basic goals.
How often do you find yourself searching for something only to get large search result or no items at all, neither result being helpful? Faced with this outcome, most engineers will resort to creating a new part just to save time versus trying to find an existing part for a product development project.
If your company is thinking about deploying a PLM system, then most of these applications now support classification search which allows engineers to search for parts by category and filter by attributes. It's important to test the search capabilities of PLM attributes before making an investment in a new system. Promoting parts re-use is a significant value proposition to help justify the investment in a PLM system.
Target System Requirements
Find out what internal business systems would benefit from having high quality data. It will be important to know the capabilities of these target systems.
Key points:
Work with your IT and key software vendors to understand their system requirements e.g. export formats, system limitations.
Obtain a demonstration of these systems to understand how they work and what will make them more effective.
Determine how flexible these systems are to change. If they are not flexible to change then you may want to limit the information shared with these systems.
Publishing classification data to existing corporate systems that can use them for search e.g. MDM, PLM can be a big benefit. It will be important to understand the capabilities and limitations of these systems early in your classification program so that feeding them data at the end requires less effort. Quite often these systems have very specific requirements and limitations that will need to be exposed. It may make good sense to run a small pilot with these systems before your classification program gets too far down the road. Work with your IT organization and the vendors of these solutions early on to work data integration issues.
Global Business Requirements
Key points:
If your organization expands geographically and has divisions around the world, this will be a critical step.
If your company has grown via acquisition, a classification project could be a significant benefit to help consolidate operations and procurement spend.
If the plan is to move all divisions to a single ERP or PLM system; make sure to get the classification program integrated into the data migration process.
Be considerate of the fact not all businesses work in English – work out a plan to support foreign languages especially English and Asian languages.
Companies that have grown via acquisition, like those in the Oil and Gas industry, can be the biggest benefactors of a classification program. If the goal is to get these different acquired businesses onto a single corporate ERP and PLM system, classification should be an essential part of the data migration. If a company fails to do that, it could be introducing substantial duplicate inventory and supplier proliferation issues. It may be important to setup a corporate level classification organization if your company is a growth via acquisition company too, since it may become a permanent organization.
Sharing parts and products across divisions can be a challenge when you have operations all around the world. It will be important to support different foreign language requirements – especially between English and Asian languages. There are different ways to do this, we recommend a pilot is setup to determine a scalable option.
Summary
This blog touched upon some very significant issues we hope educates our subscribers on the value classification programs can truly have if they are setup for success and consider these key 5 requirements in the planning process. We invite you to subscribe to our blogs and join our classification community as we touch upon these issues each month.
About Convergence Data
Companies with chaotic or incomplete data trust Convergence Data to scrub that information into an organized, efficient structure. The company specializes in:
Minimizing part duplication
Cultivating part standardization and re-use
Reducing part count
Streamlining inventories
Improving leverage with vendors
PLM/ERP migrations
Convergence Data enables customers to manage data in a variety of industries,
including Aerospace and Defense, Appliances, Automotive, Electronics, Industrial Manufacturing, and Oilfield Services.
For companies deploying PLM or ERP solutions, the cleansing, classification, and data enrichment services from Convergence Data can be a significant benefit.
To learn more about Convergence Data and receive a Data Value Analysis (DVA) go to: www.convergencedata.com.
Join the Classification Community here – www.classificationcommunitygroup.com
To see our latest webinar which was an overview of the