I had the opportunity to participate in PTC's LiveWorx annual conference in Boston this past week at the Boston convention center located in the up and coming Seaport district (June 6-8). It was an exciting event highlighted by PTC's rebranding – new logo, green color scheme and focus on IoT (Internet of Things). IoT was clearly the theme of the conference for PTC, including its partners and customers. Even as a novice in IoT I can see why PTC is focusing on this evolving technology –The Gartner Group says that by 2020 there will be over 26 billion connected devices. An interesting demonstration by PTC customers such as Caterpillar demonstrated the use of virtual technology in the PLM space – you could see actual product application demonstrations on the Xtropolis exhibit floor.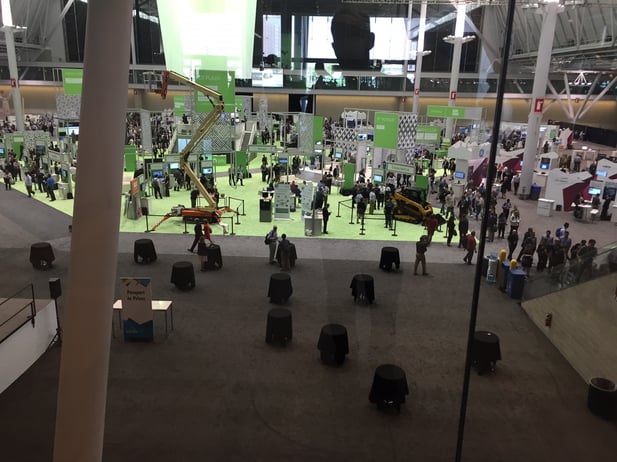 Xtropolis Exhibition Hall – PTC products and services along with PTC partners
On the legacy product front, PTC was able to demonstrate its capabilities in different industries – from retail e.g. flexPLM (actual store fronts) to traditional manufacturing applications – Creo and Windchill. I was able to receive a number of product demonstrations on PTC products including the new PTC Navigate, PartsLink – which is integrated into Windchill and some IoT demonstrations. PTC Navigate is a role based search application that sits on top of Windchill and makes it easier for non-Windchill users to search for things.
PTC is clearly positioning themselves as a leader in innovative technologies with its focus on IoT – In my conversations with conference attendees I can clearly see how IoT will impact and streamline the workplace for the better. We need to take this opportunity to educate ourselves on IoT and work to find solutions that allow us to apply it in the PLM space.