The costs of new and duplicate parts are dispersed over multiple departments and across products' lifecycles, so it is difficult to identify who should be responsible for preventing part proliferation.
A closer look at a product's lifecycle and the group responsible for most of the costs suggests engineering should be responsible of governing new part creation and preventing duplicate part creation.
For many people the cost of duplicate parts is abstract since is a cost accrued across various departments (and divisions) and throughout the lifecycle of a product. Companies often do not recognize the significant cost of duplicate parts until their volume becomes overwhelming and the challenge of rationalizing or eliminating them seems futile.
The U.S. Department of Defense (DoD) is painfully aware of the significance and cost of duplicate parts. The DoD has to manage products, not just across a couple of departments, but over many massive agencies each managing huge suppliers who handle millions of components. The proliferation of duplicate parts is such a concern, that the Defense Standardization Program Office of the Defense Logistics Agency released a study in December of 2013 titled "SD-19 Parts Management Guide" which reviewed the generalized cost of creating a new part across the lifecycle of a new product.
According to the study, the cost to create a new part is a whopping $27,500! The cost associated with various stages in the lifecycle are shown in the below table and illustrated in the graph.
ACTIVITY
COST ($)
% of Total Cost
Cumulative
Cost ($)
Beginning
-
-
-
Engineering
and Design
12,600
45%
12,600
Testing
1,000
4%
13,600
Purchasing
5,200
19%<
18,800
Manufacturing
2,400
9%
21,200
Inventory
1,200
4%
22,400
Logistics Support
5,100
19%
27,500
Total
27,500
Table 1 Costs from the creation of a new part. "SD-19 Parts Management Guide, Defense Standardization Program Office, U.S. Defense Logistics Agency, December 2013"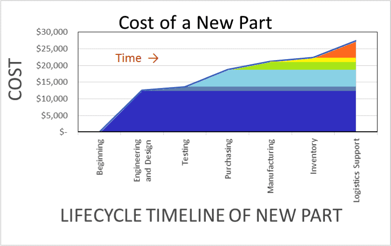 According to the study, engineering is responsible for the most significant portion, 45% or $12,600. Engineering, in addition to being the most significant cost contributor, is also typically responsible for creating the part and is at the very beginning of the lifecycle process.
When purchasing and manufacturing receive a design, substantial costs have already been accrued. Swapping out the new part with an existing component will save money later in the lifecycle process, however, it is an issue of diminishing returns, so the earlier in the lifecycle the more cost saving able to be achieved. Remember, change order creation costs substantial money. A change order requires engineering to locate the acceptable part, approve the change, update drawings, and it requires manufacturing to update their process and it might even scrap some inventory. So, if the change order is too late in the design process, it could potentially be uneconomical to create the change order.
If a new part is not swapped out in a design process, it still sensible to review the duplicate parts and determine a preferred part, so future designs can standardize upon a part and part proliferation can be limited.
In summary, it makes sense to eliminate new duplicate parts as early in the product lifecycle as possible. So engineering who creates the parts and are first in the lifecycle queue, should be responsible for preventing duplicate part creation. For engineering to prevent the creation of new parts, engineering needs to assume responsibility to prevent part duplication. An effective data governance and new part introduction (NPI) process needs to be established. To make the process work, part data needs good tools and quality data. Good search tools can incentivize engineers, by saving them time and reducing their workload making it more time effective to locate existing parts than to create new parts.
Management needs to be unanimous and supportive of engineering's efforts to eliminate part duplication. Management should be routinely updated and subsequently should provide guidance and support whenever necessary. Routine reports provide management the opportunity to review the number of new parts created.
Changing processes and mindsets of a company takes time, but the upfront efforts to eliminate duplicate parts have long-term cost benefits.
---
---