Jun 1, 2021
Classification
,
Product Analytics
,
PLM
,
Part cost
,
Convergence Data
,
Part Preparation
,
DFR
,
Cost Reduction
,
Spend Analysis
,
Clusters
,
Loading Data
,
Cost Savings
,
Part Standardization
,
Duplicate Analysis
,
data normalization
,
categories
,
classification structure
,
reclassify
,
smartclass
,
supplier pricing
Quite often, manufacturing companies' engineering and procurement organizations don't work together as closely as they should. We've seen that, as a company grows, its new part requests can increase, making it challenging for procurement to keep up with an effective supplier sourcing process. The issues often start when engineers, experiencing difficulties finding an existing part to reuse for a new design, find themselves creating a new part in order to save time. Procurement can become inundated with these new part requests. They may not know which are the best suppliers that can currently provide similar parts. When this happens, procurement may get a price from a new supplier and not know if this new supplier is the best option.
25% of new parts requests are unnecessary - typically existing parts would meet the requirement, yet engineers cannot find them due to poor

data

.
It's hard to imagine a better way to manage the parts your purchased parts that would be a win-win for both your engineering and procurement groups – especially when you're under fire to get new products out the door. The problem only gets worse as a company grows over time and this problem goes unaddressed. Some companies grow via acquisition, and these new acquisitions already have their parts and vendor relationships established - which can take this problem to another level. What ends up happening is business groups work independently of each other – and end up creating their own parts and sourcing from their own local suppliers.
Eventually, these companies realize that they need to get related businesses working with the same PLM and ERP systems. The question then becomes, "Do you migrate existing data from these autonomous businesses into one system – even knowing duplication may exist with parts and direct material spend?" This is the perfect time to address the issue. But how can this be done when you're under pressure to get your business onto a single ERP or PLM system?
Over $1M can be saved annually if 25% of new part requests are mitigated with an existing part. (Assumes 500 parts created annually)
Let's get back to the root cause of this now massive issue: how does one rationalize this data mess and stop the bleeding? You could start by looking at the data you have now on your critical category spend. Which new part requests are unnecessary? Get the data right. Set up a data governance process that ensures new part requests are carefully vetted. Also, provide engineers better data to make it easier to find the preferred part that they should be using so they don't introduce more new parts! This can be done with basic parts classification techniques. It is important that it's done by the entire organization since this will help unite engineering and procurement to follow one process for managing this big issue - an integrated parts and supplier management process.
Once your parts are classified in an easily accessible central database unnecessary duplicate part requests will no longer be a problem. (Challenges Managing Duplicate Parts blog) Now, unite this data with the supplier spend data - this is where the magic begins! You may find different locations are buying the same part from different vendors at different prices. Many of these parts from multiple sources may be very similar to other parts that are also multi-sourced. Combine all this information into a group of similar parts by key characteristics – we call that a cluster. Incorporate the supplier spend data and it then becomes something special – a magic cluster! (Magic Clusters blog)
Over $2M can be saved annually from price alignment as a result of clustering. Companies that don't cluster today are paying different prices for similar or duplicate parts.
By clustering similar parts, companies can start to gain control of the problem. No longer will you have situations where you are buying similar parts from different suppliers with prices from different plant locations. This provides a much better view of procurement from the beginning to end of the parts management process. Companies can now start to identify what parts are preferred, which parts should be obsoleted, and what suppliers to source parts to.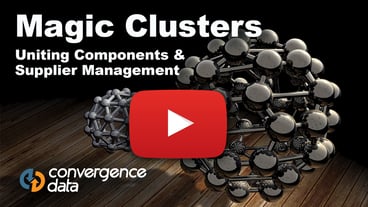 Summary:
Business Challenges Managing Parts with no Data Governance in place.
Engineers can't easily identify parts that are being purchased today.

Proliferating purchase parts - with duplicate or slightly different parts.

Procurement not knowing what a competitive price is or spend history on similar parts.

Manufacturing sites not able to coordinate supplier spend.
Impact to business
Excess inventory.

Supplier proliferation - leading to quality and delivery issues.

Different prices on similar parts.

High direct material spend.

More data quality issues.